Our philosophy is to "strive to create an environment where all patients can live comfortably and painlessly" and we are committed to the following three principles.
1Never give up on treatment.

It is not uncommon for hospitals to give up on treatment for patients who do not improve even after surgery. We will continue to consider better treatment methods for patients until their symptoms improve without being bound by existing treatments.
2We always try to be kind to our patients.

All the staff at our clinic always try to be kind to our patients. We tell our patients to think of the kind of treatment they would like to receive when they visit the clinic. Patients are people who are sick, and we are thoroughly educating our staff that we must not forget to be attentive to patients' feelings under any circumstances.
3 Hospitals are a service industry

We are paid for the medical services we provide. We strive to keep this in mind. It is a matter of course to provide good quality services, and we believe that the success or failure of a clinic is determined by how much value we add on top of that. If there are stores selling the same thing, we always think about which store will be preferred, and in the same way, we always think about what is necessary for a clinic to be preferred and try to put it into practice.
Hygiene management and countermeasures against novel Corona virus infection
Based on the experience of the novel Corona virus pandemic, which coincided with the construction of our clinic, we have reviewed our building materials from the ground up. We have used antibacterial and antiviral materials as much as possible, including glass coating of antiviral materials on areas that fingers come in contact with.
We have also implemented a variety of other measures to prevent infectious diseases, such as the use of alcohol disinfectant, the installation of a protective film at the reception desk to prevent splash infection, and the use of self-checkout machines.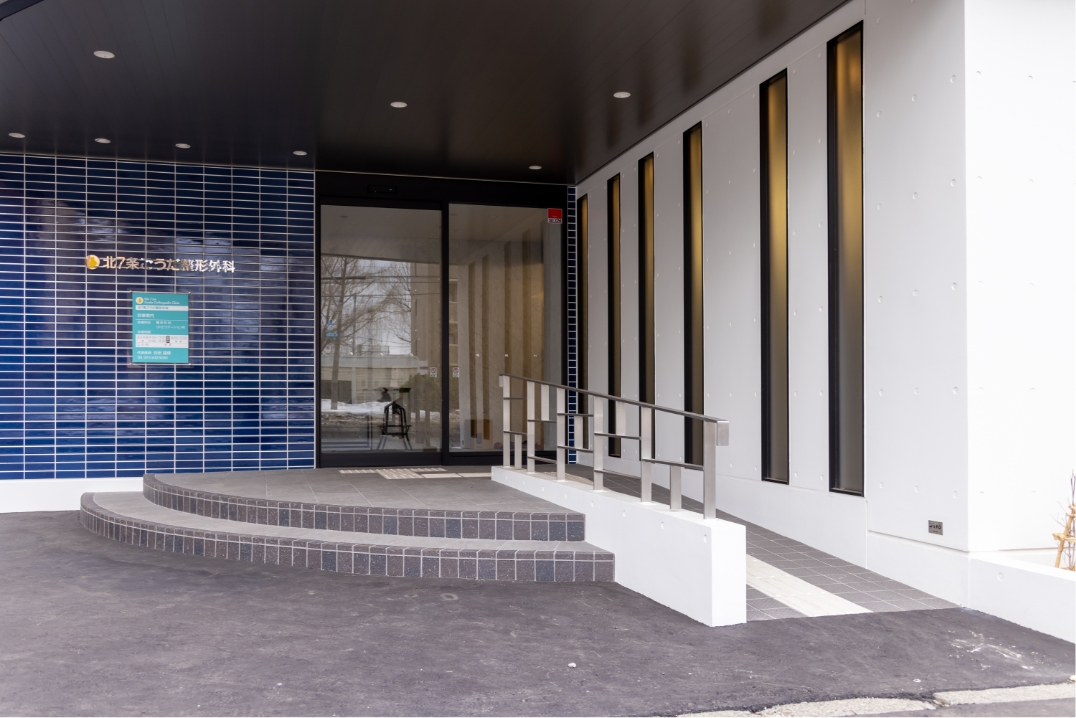 The entire clinic is designed to be barrier-free. The waiting room and treatment rooms are spacious, so wheelchairs and baby strollers can enter the clinic with ease.
Appointments can be made 24 hours a day.
Our clinic gives priority to appointments. Please make a reservation by phone or via the web, which is available 24 hours a day.
Smooth reception
We have a smart phone call system that allows you to wait outside of the waiting room.
Hygienic and efficient accounting system
We use a self-checkout system that prevents splash infection, minimizes waiting time, and eliminates errors in change. We also accept cashless payment by various types of cards.
Friendly atmosphere
The interior of the clinic is bright and friendly, like a café, in order to make patients feel at ease.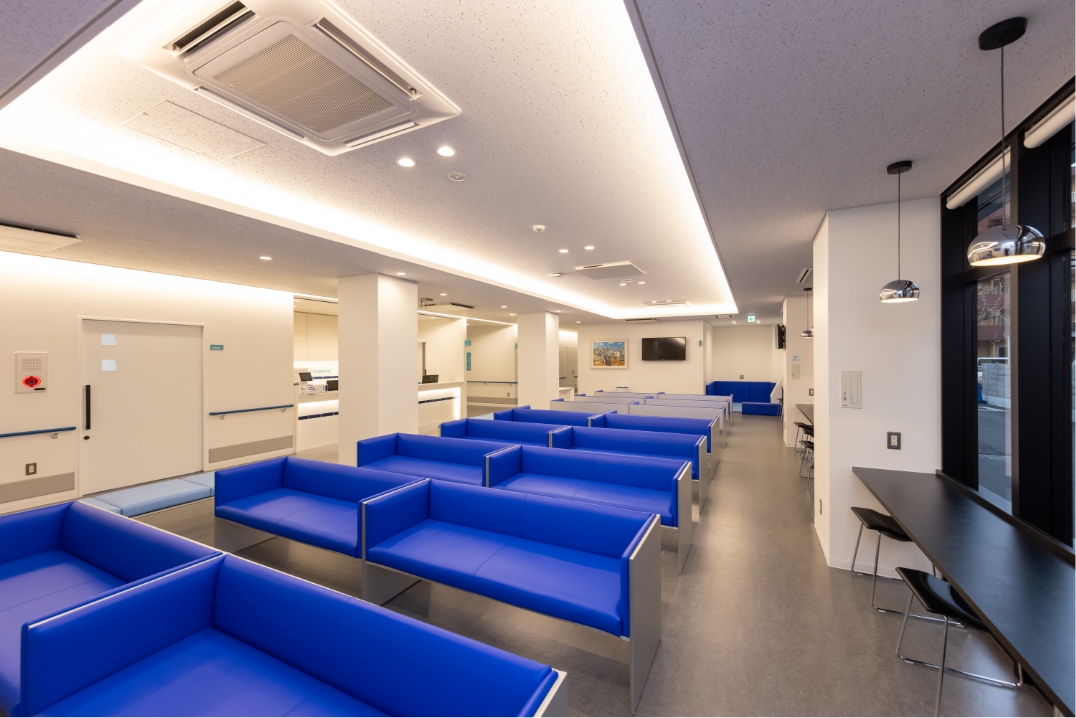 The waiting room is brightly colored and looks like a showroom, and free WiFi is also available to help you relax. The waiting room is also equipped with a kids' space so that your children will never be bored.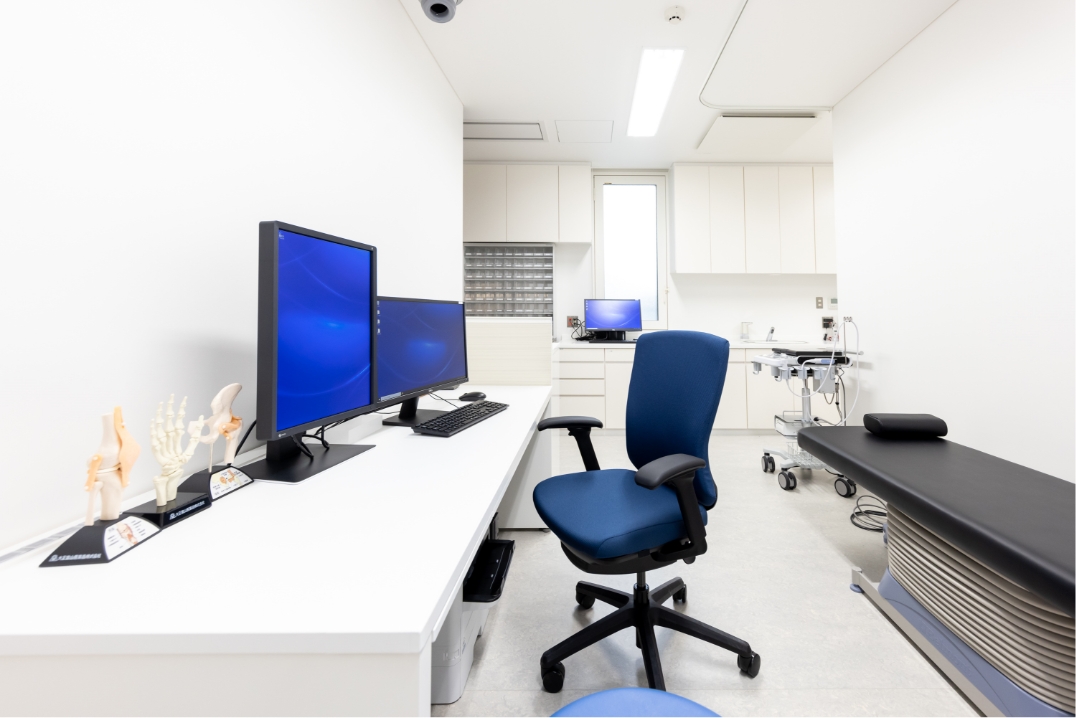 In order to minimize the waiting time, we have three treatment rooms equipped with a variety of medical equipment, such as an echo machine specialized for orthopedics, which is effective for myofascial release and nerve block, and a pulsed laser therapy machine, which is effective for nerve ganglia.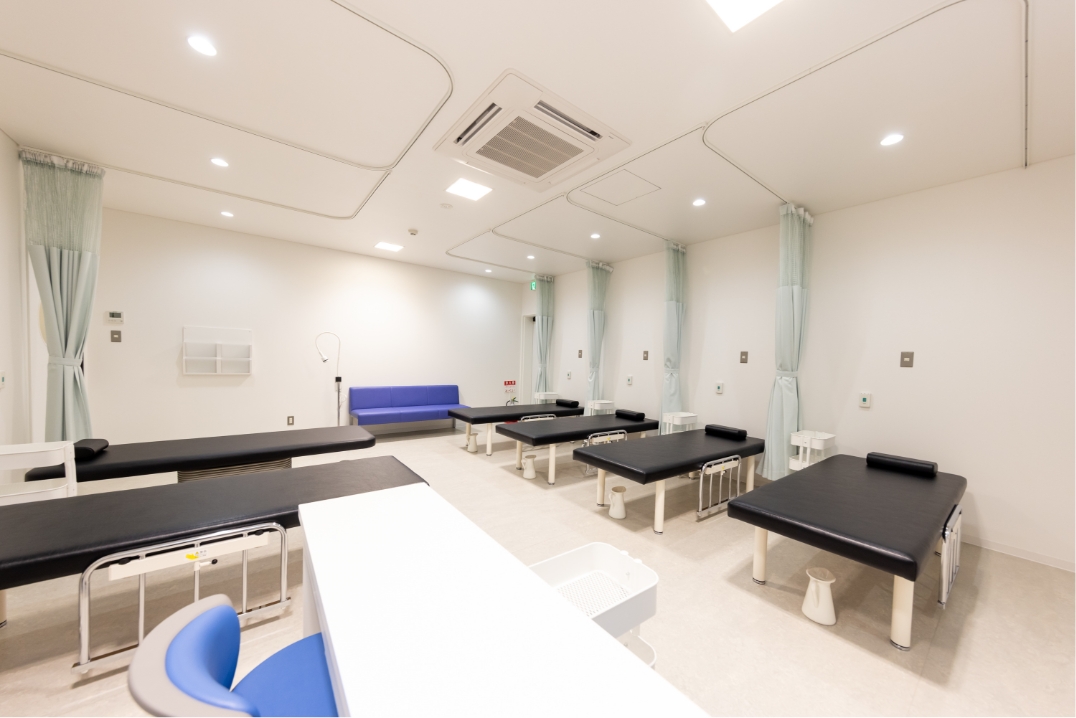 There are six treatment room with examination beds. It is used for joint injections, various procedures, medical examinations when taking medication, and resting after nerve blocks.
The clinic prescribes medications in-house, so there is no need to go to an off-site pharmacy to pick them up. We can also issue outpatient prescriptions for medications that are not available in the clinic.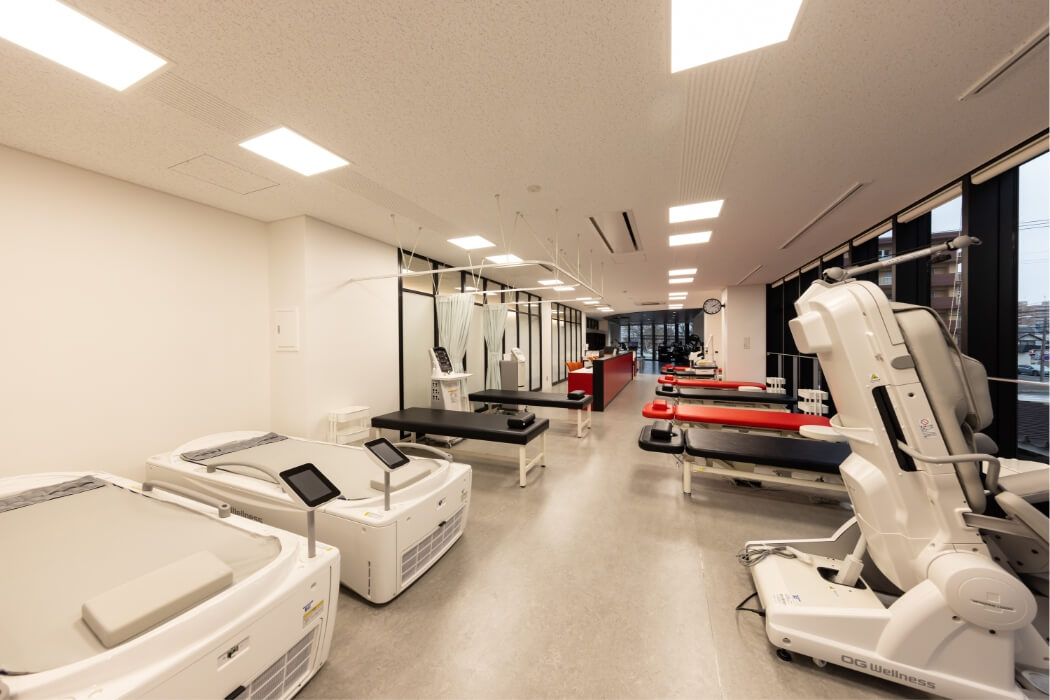 The rehabilitation room is located on the second floor with a beautiful view and a spacious area of about 100 square meters.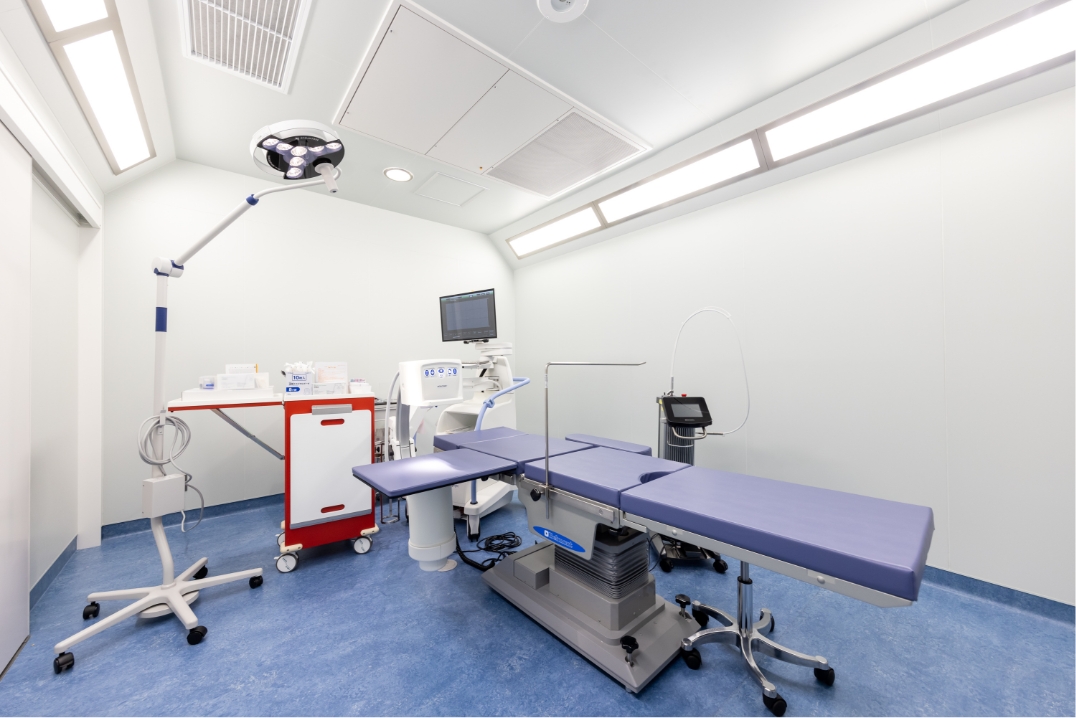 We perform day surgery. We are equipped with a high-performance X-ray fluoroscopy system and can treat fractures of fingers and other bones.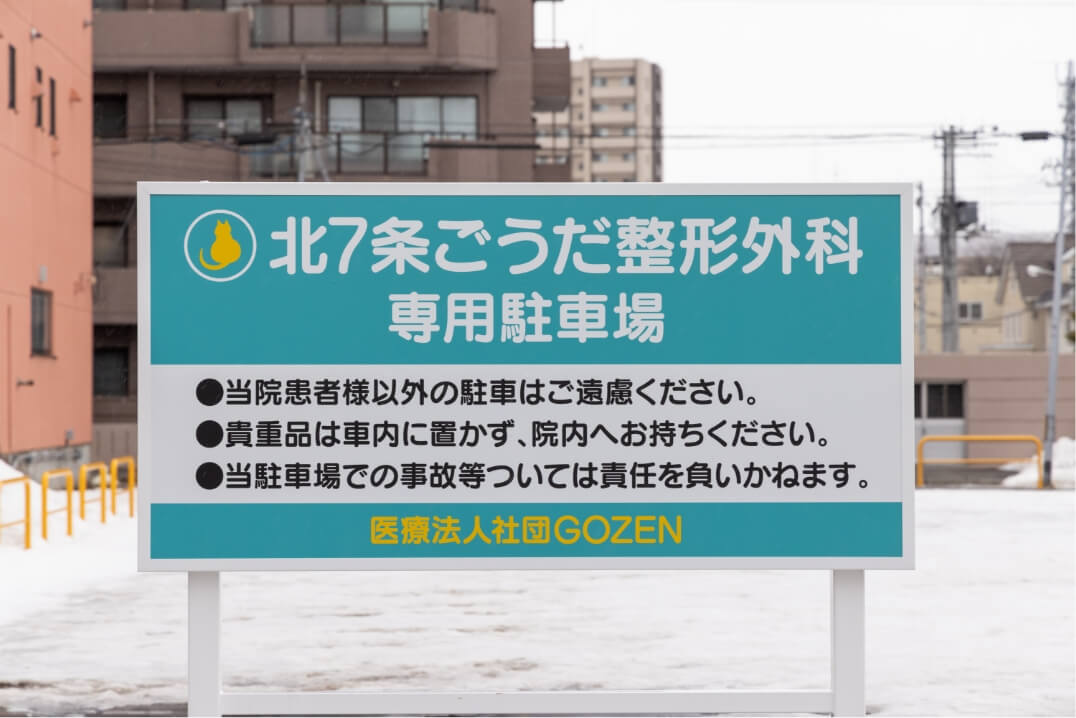 There are 42 parking spaces available.
Our clinic's medical philosophy is to achieve treatment results without giving up. We are equipped with a full range of medical equipment, including examination equipment and rehabilitation equipment, which are indispensable for providing comprehensive treatment.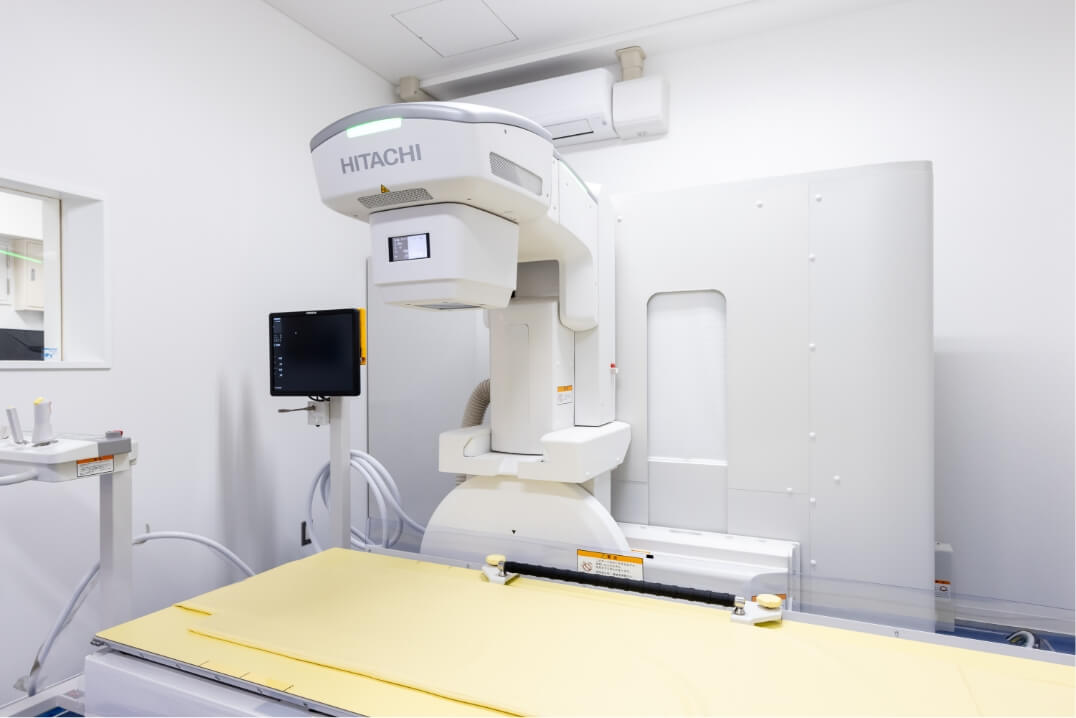 Do you think there is no significant differance among X-ray imaging? In fact, there are differences in the amount of radiation exposure and the time required to take an X-ray, depending on the X-ray used. At our clinic, we use the DR system, which does not require developing film and allows us to check the image immediately after the image is taken.

The X-ray fluoroscopy equipment also uses the DR system, which was chosen by our clinic because it has a much lower exposure dose and the platform can be moved up and down for easy transfer.
We have installed the first MRI in Hokkaido that can take musculoskeletal images in both standing and weight-bearing positions. This MRI can take images in about 15 minutes, which is much shorter than conventional MRIs, and can also take images in the natural limp position that reproduces pain in joints and knees.
1Total Abdominal

The Total Abdominal is an ergonomically designed exercise that strengthens the hip flexors by training the abdominal muscles.
2Shoulder Press

A rehabilitation machine that allows you to continue training your shoulders and arms in an easy and fun way.
3Chest Press

A rehabilitation machine that allows you to continue strength training in a fun way and is suitable for exercising deltoids, triceps and pecs.
4Leg Extension

The leg press is a rehabilitation machine designed based on ergonomics and biomechanics that allows you to work out your legs comfortably in a seated position.
5Leg Curl

A rehabilitation machine that allows you to work out your hamstring safely and efficiently in a seated position.
6Low Row

A rehabilitation machine that safely and effectively trains the upper body and biceps while seated.
7SKILLMILL™ CONNECT

A rehabilitation machine that provides basic training to improve all skills: power, speed, stamina, and agility.